Rolling Paper Depot
---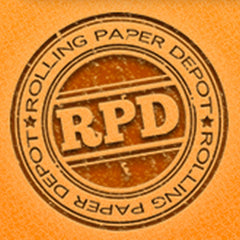 Rolling Paper Depot is your source for the highest quality products for Roll Your Own enthusiasts.
We have stocked the widest variety of the finest rolling papers and smoking accessories found anywhere. For your smoking pleasure, we have stocked our warehouse to the rafters with rolling products from ashtrays to rolling trays and everything in between. RPD has the largest selection of cigarette rolling papers and accessories for sale on the entire world wide web!
We specialize in rolling papers and RYO products. At Rolling Paper Depot, you'll find the highest quality tobacco and herbal smoking goods at the best prices. Many of our products are made from all-natural or organic materials and are equipped with vegan gum. Save on specialty items like blunt wraps, flavored cigar wraps, and flavored rolling paper.
Check out our entire selection of cigarette rolling papers, roll your own accessories, and smoker's apparel. Most products are sold by the box to keep our prices at wholesale level. Items are also sold in half-box and single pack quantities for the occasional smoker or if you just want to give us a try!
And remember, we are always happy to help via sales [at] rolling paper depot [dot] com or (480) 768-7655 during normal business hours. Send us your questions, comments, and suggestions. We listen! Our goal is to provide you with exceptional customer service and the best rolling papers on the planet!
Thanks for shopping with us and welcome to Rolling Paper Depot!
---
There are no products in this collection.